By: Gillian Flaccus
LAGUNA NIGUEL, Calif. (AP) — At first glance, nothing seems amiss at this lush, members-only golf club in one of the priciest communities in Orange County. A bubbling fountain gurgles out of an artificial lake. Emerald-green fairways stretch into the distance. Golf carts zoom across the grass like white ants.
But behind the man-made stream and arcing sprinklers, California's epic drought is reshaping the course at El Niguel Country Club and dozens of others statewide.
Pressed by the four-year dry spell and state-mandated water cuts, some of the finest courses in California are taking such steps as tearing out the grass in places where it won't affect the game, planting drought-resistant vegetation, letting the turf turn brown in spots and installing smart watering systems.
"The new buzzword in the industry is 'Brown is the new green.' We can't provide the same kind of product as we'd like to anymore," said Mike Williams of Hidden Valley Golf Club in Norco. "Everybody can't play on a lush green surface like the Masters."
It's a move the golf industry says is necessary for its long-term survival as the drought drags on.
Last week, state regulators ordered a 25 percent overall cut in the use of drinkable water in California, leaving it up to local water agencies to decide how to achieve it. Golf courses are starting to find out what that will mean for them — cuts in their water allocations, tough sprinkler restrictions and perhaps higher water rates.
In California, an average 18-hole golf course sprawls over 110 to 115 acres and conservatively uses almost 90 million gallons of water per year, enough to fill 136 Olympic-size swimming pools, said Mike Huck, a water management consultant who works with golf courses statewide.
Some golf courses already are spending up to $500,000 a year on water to maintain that oasis look. Country clubs also realize that the sight of great expanses of perfect grass won't sit well with the public when people are being asked to take four-minute showers, flush less and let their own lawns wither.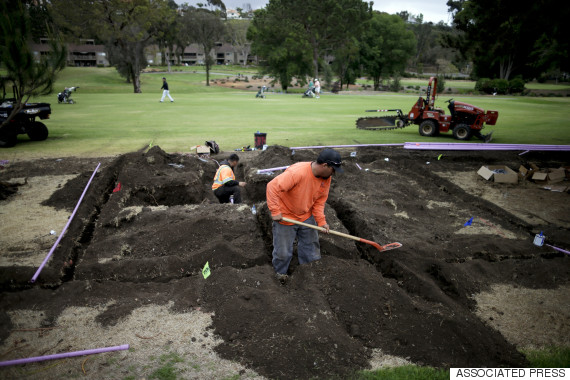 In this April 25, 2015 photo, workers install moisture monitoring and irrigation systems at the El Niguel Country Club in Laguna Niguel, Calif. California's epic drought is reshaping the course at El Niguel Country Club and dozens of others statewide. Pressed by the fourth year of bone-dry weather and the threat of state-mandated water cuts, some of the poshest courses in California are ceding back to nature some of their manicured green, installing high-tech moisture monitoring systems and letting the turf they don't rip up turn just a little bit brown. (AP Photo/Gregory Bull)
As a result, many of California's more than 860 golf courses have jumped at turf reduction rebate programs run by water agencies. The programs offer $2 to $3 for every square foot of turf removed.
A golf course can easily tear out up to 25 acres of grass next to the fairways and around the clubhouse without affecting the game, said David Fleming, a golf course architect whose business is booming.
El Niguel Country Club applied for rebates last year to rip up 22 acres, and the final phase is now underway. The project will save 12 million gallons a year, just in time for cuts to the course's water allocation that begin in June, said Brian Archbold, golf course supervisor.
On a recent spring day, golfers playing in a charity tournament at El Niguel putted their way around dozens of orange-shirted landscapers who were gouging out dead grass and planting buckets of drought-tolerant species such as firecracker plants, acacias, primavera and golden grass.
Golfer Keith Stribling has seen similar redesigns at several courses around Southern California and doesn't mind it.
"The way most courses are doing it, you can see they're not putting it right in the middle of the golf course," he said. "They're just removing turf where you shouldn't be hitting it over there anyway."
Rancho Santa Fe Golf Club, down the road in San Diego County, tore out almost 19 acres late last year and replaced it with sandy beds dotted with brightly colored yellow, purple and white desert plants for an eventual water savings of 13 million to 15 million gallons a year, Fleming said. The course still faces a 50 percent cut in supply by June 1 if a local water agency's plans pass — likely meaning the rough will go dry.
The rebates have become so popular with the industry in Southern California that the regional Metropolitan Water District is talking about creating a lifetime rebate cap and taking other measures to avoid maxing out its funds.
Other courses are investing in wireless soil probes that can provide real-time feeds to groundskeepers on their cellphones. The readouts indicate exactly where to water and exactly how much, to within a fraction of an inch, eliminating the need for sprinklers that drench large areas.
Some golf courses are installing liners in their artificial lakes, turning off sprinklers in areas of less foot traffic and considering on-site facilities that treat wastewater from the sewers — a strategy Australian golf courses used to survive a recent 10-year drought.
Ed Osann, a water use expert at the Natural Resources Defense Council, said the golf course industry must shift away from using drinkable water over the next decade or risk its future.
"We may not be at the most severe part of this drought yet," he said. "This could get worse before it gets better."